AK State HR Conference 2020 - Sessions and Speakers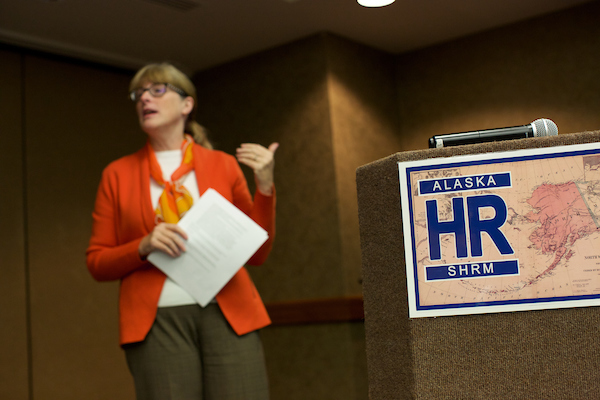 May 14-15, 2020 | Anchorage, AK
THURSDAY, MAY 14, 2020
8:00 – 9:30 AM OPENING KEYNOTE
The Future State: Disrupting HR Like Nothing We've Ever Seen
Johnny Taylor, SHRM

Session Description
As an HR professional, you can play a significant role in promoting the success of your organization by understanding your business objectives, workplace issues, and the changing environment – nationally and globally – in which you compete. In this session, you will learn about the past, present, and future state of HR, and how to be(come) a strong contributor to the "bottom line." Through the lens of the President & CEO of the Society for Human Resource Management (SHRM), Johnny C. Taylor, Jr., we will take a deep dive into how our profession plays a key role in three specific areas -- the work, the worker, and the workplace.
Speaker
Johnny C. Taylor, Jr., SHRM-SCP, is President and Chief Executive Officer of the Society for Human Resource Management (SHRM), the world's largest HR professional society. Mr. Taylor serves on the corporate board of Gallup, the world's leading public opinion and consulting firm. He also actively volunteers for education, employment and other social causes by serving on the boards of the University of Miami, Jobs for America's Graduates and the American Red Cross and as an adviser to Safe Streets & Second Chances, an initiative to reduce the high rate of recidivism among the formerly incarcerated. In 2018, he was appointed Chair of the President's Advisory Board on Historically Black Colleges and Universities by President Donald J. Trump.
Mr. Taylor holds both a Doctor of Jurisprudence and a Master of Arts with honors from Drake University. He obtained a Bachelor of Science with honors from the University of Miami. He is licensed to practice law in Florida, Illinois and Washington, D.C.
---
10:00 – 11:30 AM CONCURRENT SESSIONS
Beating the Odds: A Successful Alaska-based Benefit Strategy
Courtney Touw, Allliant
Session Description
A true story of how Alliant defied the odds and held an Alaska organization's medical spend to below 4.5 percent, a third of Alaska's average of roughly 13.5 percent. Come and learn how the creation of a local no-cost primary care network with same or next day appointments and a health care referral networks to encourage and pay for travel to the lower 48 states, where procedures are one-third the cost with significantly higher-quality results. Discover how these and other initiatives helped increase delivery of primary and prevention care and reduce employees' out-of-pocket costs and renewals. You will be amazed at how plan design and innovative ideas reduced costs without impacting the quality or integrity of the benefit offerings to employees.
Speaker
As Executive Vice President with over 20 years, Courtney Touw advises clients ranging from 50 to 10,000 employees. His approach to consulting emphasizes creative solutions grounded in his clients' culture and budget. He is a frequent national and international speaker on healthcare, wellness, and consumerism.
Business Strategy and the Role of HRM: Developing High Performing Organizations
Karen Kirk, Synergistic Solutions

​
Session Description
Senior business managers develop the strategic direction, strategy, and goals to compete in a given market environment. Research and literature suggest that business managers craft a business strategy with two end states in mind: 1) adapt to changing market and customer demands, and 2) to achieve a competitive advantage over rivals. To accomplish both desired end states requires the input of human resource management. Kaplan and Norton (2006) reported that 90% of all businesses fail at implementing business strategy. They found that the primary cause for failing to implement strategy laid with employee competencies. HRM plays a significant role in adapting the workforce to changing market and customer demands. Changing market and customer demands require new competencies for managers and employees. These new competencies ensure the successful implementation of a strategy. Additionally, when part of the strategic planning process, HRM aids a business in achieving a competitive advantage. HRM plays a crucial role in developing managers and employees into high-performance teams, leading to a high-performance company. This presentation examines the crucial role HRM performs as a strategic partner seated at the strategic planning table. Learning Outcome Objectives: At the conclusion of this presentation, attendees will be able to: • Discuss the purpose of Business Strategy. • Describe the four stages of a strategic planning process that incorporates HRM • Describe a planning process that aligns performance competencies with strategic goals. • Discuss the function of HR Planning as the linchpin between business strategy and HR strategies. • List specific HR strategies that create a high-performance business.
Speaker
With over 20 years of experience, Karen Kirk brings credibility, depth and distinction to her training and presentations. Her experience includes delivery of keynote and motivational presentations, retreats, counseling and coaching executives, implementation of organizational management directives, creation and orchestration of numerous change training initiatives and professional development programs, facilitation of workshops, etc.
Her clients are located throughout the US and Canada. Karen holds a B.A. in Education & Theatre and a M.Ed. in Counseling & Guidance. Her diverse experiences in management and human development give her a firm foundation in 'creating unique people solutions within the business environment'.
Please Sue Me
Sean Halloran, Littler
Session Description
This session will provide you with takeaways on the latest tips, techniques and practical HR policies to manage productivity, maintain harmony and stay out of court. This session blends employment practices, humor and the law to answer some of today's toughest management issues.
Speaker
Sean Halloran has been advising clients on a wide variety of employment law matters for two decades. He regularly counsels employers in a variety of industries on employment related matters, including compliance with federal, state, and local statutes and regulations. He assists clients with compliance audits and with the drafting of personnel policies. He regularly defends employers in administrative proceedings before the Mine Safety and Health Administration, the Equal Employment Opportunity Commission, the Alaska State Commission for Human Rights, the Alaska Department of Labor, and other federal, state and local agencies.
Coaching an All Star Team
Nikki Ramirez, HR Answers
Session Description
Coaching an all-star team in HR isn't easy! We will discuss characteristics of winning Coaches, what teams want most from their leaders; how to use "Teachable Moments" and craft winning game plans for employees.During this session, participants will have an opportunity to
• Discuss what it takes to be a winning leader and coach; lessons from the field.
• Dig into Data: what team members want most from their leader/coach.
• Explore the GROW Model of coaching, as well as core concepts in successful directive and nondirective
coaching and develop their very own "coaching model."
• Finally, we'll consider how a focus on making the most of "Teachable Moments," and crafting
winning game plans for employees in the real world.
Speaker
Niki Ramirez is a sought-after, certified human resource professional with over 20 years of successful experience in leadership and human resources management and is a sought-after trusted industry expert. She has created a unique and practical approach to balancing employees' and employer's needs based on her experience in Fortune 500 HR. Niki believes in the power of collaboration and communication and that success is accomplished is through the dedication of great employees who feel respected and empowered in the workplace.
Niki educates employers and their employees to work in partnership to design and implement meaningful workplace and human resources programs rooted in collaboration, respect, trust and open communication creating a positive ripple in the world.
Niki's has served in operational management and leadership roles, as a human resources consultant with a Fortune 500 company, as well as community college adjunct faculty, and as a human resources executive. In addition to her 3 HR professional certifications, Niki is bi-lingual in Spanish/English, holds a Bachelor of Arts degree in Spanish from Arizona State University, and an MBA in HR Management from the University of Phoenix.
---
12:00 – 1:00 PM KEYNOTE
Hide Your Goat
Steve Gilliland
Session Description
Our fast-paced and stress-filled schedules open the gate to allow people and circumstances every opportunity to "get our goat." HIDE YOUR GOAT puts into perspective how your daily life intersects with people of diverse backgrounds, opinions and personalities. In this eye-opening session, Steve Gilliland shows how to avoid being robbed of the opportunity to perform at peak performance because of negativity. Learn How to head off conflict when negativity runs rampant & how to improve your own outlook; How to deal with by-products of bad attitudes; How to assign the right value to every situation & not give people permission to ruin your day
Speaker
A member of the Speaker Hall of Fame, Steve Gilliland is one of the most in-demand and top-rated speakers in the world. Recognized as a master storyteller and brilliant comedian, he can be heard daily on SiriusXM Radio's Laugh USA and Jeff & Larry's Comedy Roundup. With an appeal that transcends barriers of age, culture and occupation—plus an interactive and entertaining style—Steve shows audiences how to open doors to success in their careers, their relationships and their lives. Presenting to over 250,000 people a year, more than two million have now heard him speak, with audiences encompassing nearly three dozen industries. Steve has the distinction of speaking in all 50 states and in 15 countries. As one newspaper stated, "Steve is what happens when the humor of a stand-up comic collides with the inspiration of motivational speaker."
---
1:30 – 3:00 PM CONCURRENT SESSIONS
Using HR Metrics to demonstate Strategic Alignment
Mary Rydesky, Transitions Management

​
Session Description
Using HR Metrics to Demonstrate Strategic Alignment In this presentation you will learn about why HR professionals need to get comfortable with and use HR Metrics, understand the concept of Key Performance Indicators for the business and HR, and how to use HR Metrics to align HR strategy with business strategy. We will review several HR metrics, discuss the steps in developing HR strategy that aligns with business, and discuss the differences between business literacy, business acumen, and business orientation. Objectives: - Understand the Business - Understand Business - Develop an HR Strategy - Align HR Strategy with the Business Strategy
Speaker
As a professional manager of training & an educator, Mary Rydesky combines practical experience with MBA theory. Her background in HR, IT services, and administration of learning management has centered on one theme: HR functions and especially training, must have a measurable impact on behavior to be worth its time and cost. She serves on the board of the AK Statewide Trainers & Developers, and is a member of the Association for Training & Development. She heads Transition Management and holds a BA in Communications, Arts, & Education, a Masters in Library and Information Science, and an MBA. Mary has recently resumed doctoral studies in HR Management.
The Seven Deadly Sins and Predicting the Future
Chris Beinecke , Marsh McLennan Agency
Session Description
• A review of seven common health and welfare compliance failures that can attract painful attention – How to avoid them and what to do when they occur (and you're caught)
• An update on recent changes to health and welfare benefits rules, and a forecast of changes expected for 2020 and 2021
Speaker
Chris is Marsh & McLennan Agency's National Compliance Leader for the Employee Health & Benefits practice. He is a well-known and highly skilled legal practitioner with deep knowledge and years of experience in the areas of compliance and administrative best practices for health and welfare benefit programs. Prior to joining Marsh & McLennan, Chris served as a health and welfare benefits subject matter expert for an international corporate law firm (an AMLAW 100 firm) and previously spent 10 years at a large, international consulting firm playing a major role in the development of that consulting firm's U.S. health and welfare compliance practice. Chris also worked in private practice as a benefits attorney for several years before entering consulting. Chris received his J.D. from The Ohio State University Moritz College of Law, and an LL.M. in taxation from Washington University and also holds a B.S. in finance from Miami University. Chris has written many published articles and participated in over a hundred public speaking engagements.
Workers' Comp 101: The Whats, Whens, And Whys
Patti Wilson, University of Alaska
Session Description
This presentation will provide an understanding of how workers' comp works, plus how you can directly impact claim outcomes and costs. Learning objectives include:
• How workers' compensation works
• Why what you do or don't do with your claims makes a huge difference to the claim outcome and your bottom line costs
• Strategies to help you stay in control of your program
• Why you need to train your employees and managers on workers' compensation
• What you need to track, when you need to track it, and why
Speaker
Patti Wilson began handling workers' compensation claims during the construction of the Trans-Alaska Pipeline. After many years as a licensed property and casualty adjuster in the private sector, with special emphasis on workers' compensation investigation and litigation management, she joined the University of Alaska in 2006 as claims manager of its self-insured program. She also serves on the board of directors of the Workers' Compensation Committee of Alaska in order to work on behalf of Alaskan employers toward a fair and equitable workers' comp system.
Cultivating Stronger Talent in the Age of Automation
Tameka Vasquez, Eigen Technologies
Session Description
Artificial Intelligence is set to become the greatest disruptor of our generation with no sector to be left unscathed. By 2022, about half of the current workforce will require significant reskilling and upskilling due to advancements made in automation technologies. These considerations have been part of the corporate lexicon for many years, but a significant push is needed to implement a wider, faster system of response to recognizing those most vulnerable. This talk will explore the advancements made in the realm of artificial intelligence and the ways it will ignite more focus on stronger, uniquely human talent. This talk will also encourage a significant push from human resource leaders to foster a brighter future of work.
Speaker
Tameka Vasquez is a marketing and business development strategist, startup advisor, professor, and speaker, with nearly a decade of experience working for global technology companies. She is currently working as Associate Director of Marketing at Eigen Technologies, an international artificial intelligence company, and a Professor of Marketing Management at St. John's University. Tameka serves as a strategic advisor to the HR tech startup, Opus AI, and she is a council member of the Disruptive Technologists Think Tank. As a speaker, Tameka explores topics intersecting business, disruptive technology, and human development.
Tameka has done speaking engagements in cities across North America, Africa and Europe. When she's not working, you can catch Tameka wandering cityscapes looking for contemporary art and kindred spirits. Tameka also enjoys reading nonfiction books and binge-watching standup comedy. She holds a MS in Information Strategy and Knowledge Management from Columbia University.
---
3:30 – 5:00 PM CONCURRENT SESSIONS
Hot Topics in Employment Law: What Happened (2019) and What's Next (2020)?
Liz Hodes Davis Wright Tremaine, LLC

​
Session Description
The following topics will be covered during this program: Survey of legislative issues involving the human resource field in 2020 ; Describe the litigation and case law trends in an effort to allow HR professionals to anticipate human resources use in the future. Summarize and analyze the regulatory arena as it relates to the workplace. Discuss future HR issues we will face in 2020 and beyoond.
Speaker
Liz Hodes is an experienced litigator who focuses largely on labor and employment matters. She counsels employers on how to prevent workplace disputes and comply with employment laws. For her corporate clients, Liz litigates disputes related to corporate governance, contracts, unfair trade practices, and other issues.
Earthquake Preparedness
Dan Belanger, DHS&EM
Session Description
Unlike other natural hazards, earthquakes strike suddenly and without warning. The November 30, 2018 gave us all a big wake-up call in regards to workplace preparedness. This workshop will address the steps that can be taken to reduce the chances that those who work in or visit the premises will be injured, that property there will be damaged, or that your day-to-day operations will be unduly disrupted by an earthquake. These activities all fall under the concept of preparedness, because to be effective, they must be done before earthquakes occur. Preparing for earthquakes involves (1) learning what employers and employees should do before, during, and after earthquakes; and (2) doing or preparing to do those things now, before the next quake; (3) leadership and employee engagement.
Speaker
Dan Belanger is the Earthquake & Tsunami Program Manager for Alaska Division of Homeland Security & Alaska Division of Homeland Security & Emergency Management and a member of the National Earthquake Hazard Reduction Program. He coordinates research grants, mapping projects and outreach products with UAF and DGGS under the National Tsunami Hazard Mitigation Program. Dan works with NOAA Tsunami Education Programs, National Disaster Preparedness Training Center and emergency managers in creating community resilience for all hazards but focuses on Earthquake and Tsunami preparedness. Dan is a lifelong Alaskan and US Army Veteran where he served as a UH 60 helicopter mechanic/crew chief. He also holds an FAA A&P certificate. He earned his Bachelors of Science from Alaska Pacific University in Science and Education and taught geology and physical science in Alaska for 10 years.
Suicide Awareness & Prevention in the Workplace
KJ Worbey, Clinical Director, Employee & Community Support and Barbara Sappah, Senior Human Resources Manager​, Southcentral Foundation
Session Description
People often spend a large portion of their day at a workplace and, in doing so, get to know other employees over time. As a result, they may be in a good position to notice changes in behavior that could suggest risk for suicide or other mental health problems. Learn to recognize and engage persons who might be having thoughts of suicide and to connect them with community resources trained in suicide intervention. The objectives of this training are to: 1. Learn about how suicide affects the state of Alaska; 2. Learn about the myths and facts surrounding suicide; 3. Recognize the warning signs of suicide; 4. Know how to offer hope; 5. Know how to get help and save a life; 6. Know what resources are available for help and support.
Speaker
TBD
Compensation Trends in Alaska
SPEAKER TBD
Session Description
The presentation will provide an introduction to Salary Surveys in Alaska which will lead to addressing Compensation Trends in Alaska, providing specific examples of some common positions in companies . The presentation will discuss geographic pay differential trends between Alaska and other regions of the US, giving attendees the resources to establish and manage employee pay and reward strategy. This includes the current challenges of designing competitive compensation structures, philosophy and competitive markets.
Speaker
TBD
Friday, May 15, 2020
8:00 – 9:30 am CONCURRENT SESSIONS
The Making of a Successful Mentoring Program
Barbara Brown
Session Description
A successful mentoring program accomplishes several things for an organization: it helps newer employees become immersed in organizational culture, develop an avenue to get questions answered, and grow both professionally and organizationally. For the growing employee, it gives them an avenue to pursue professional development and span organizational boundaries. For the mentor, it reinforces a culture of training and development, allows a mid-level supervisor to test out management in practice, and invigorates with the energy of younger employees. Creativity in workplaces has been linked to the ability to cross divisional lines and welcome "new blood" into the organization; mentoring can accomplish both.• Why set one up? The benefits for your organization• Who should be included? The best kind of mentors and the best kind of matches; the worst kind of mentors and the worst kind of matches• How: o Training of the mentor/mentees o Creating a contract o Setting goals o Do's and Don'ts: Mentoring Etiquette o Monitoring the contacts and relationships• Evaluation
Speaker
Barbara currently works for OLÉ (Opportunities for Lifelong Education) and volunteers as a teacher for the Alaska Literacy Program. Prior to this, she built the Imagination Library program for Best Beginnings, has been the Manager of People Mover, an Operations Manager for FedEx, Director of Community Relations for the ADN, managed a theater company, and more! She was director of Leadership Anchorage for the Alaska Humanities Forum for 6 years, gaining invaluable experience in the development of mentorship programs. She has learned what works … and what doesn't. She's a graduate of Stanford University and presently blogs and illustrates at Our Third Thirds (https://3rdthirds.blogspot.com).
Creating Racism-Free Workplaces
Justin Zagorski
Session Description
Racism. If we don't talk about it, will it go away? A magic 8-Ball would likely say "don't count on it" or "my sources say no". As Human Resources professionals, this dialogue cannot be avoided. Racism impacts each one of our lives, as do many other forms of oppression and privilege. Participate in this session if you are ready to dive deep into our unconscious biases, so that we become more effective at rooting racism out of our workplaces. Come prepared to share your story, grapple with internalized biases, and innovate solutions to workplace racism.
Speaker
Justin Zagorski is an activist, educator and social justice consultant who specializes in conducting anti-oppression workshops. After graduating from Alaska Pacific University in 2012, he earned his Masters of Arts degree at Seattle University with a focus on how white male college administrators engage with social justice movements. Currently Justin partners with Planned Parenthood Votes Northwest to facilitate monthly anti-racism dialogues. Previously he facilitated city-wide inclusion work as the Social Justice Program Manager at YWCA Alaska. To date, he's implemented over 100 social-justice training sessions for college students.
Building Rapport – The Art of Connecting With Anyone
Jerry Balistreri
Session Description
This training will explore the finer details of how to building rapport with anyone. Various levels of rapport building will be explained with examples of how to perform each level. Various connecting techniques will be described that are proven effective. Your connecting skills will be improved as a result of this training.
Speaker
Jerry has been training, researching, writing, and speaking on non-verbal communication for over thirty years. He delivers customized trainings, keynote addresses, and conference sessions that create a memorable experience for participants. His past experience and education include: * Professional educator, administrator, trainer, and speaker * B.S, M.S., M.Ed., DTE * Twenty-five years experience in public education * Ten years experience in training * University department chair * HS Principal * State Supervisor with two state education departments * ASTD certified trainer.
How to Write an Effective Business Case
Heather Eldred, Transcend Strategic Consulting

​
Session Description
Why put time and effort into preparing, writing, and presenting a business case for new projects? Why not just talk to the manager and get his approval for the project? The answers to these questions lie in the fact that organizational budgets for new projects are typically very tight and, as such, your project will be competing against other projects for funding. Without a written business case, your chances of persuading decision makers within your organization to implement your new project idea, instead of a competing project, stand little chance.
Speaker
Heather Eldred is Co-CEO of Transcend Strategic Consulting, an Alaska-based company focused on helping companies in the Pacific Northwest assess and transform their company cultures, driving bottom line growth through research, strategic marketing, and leadership training. Heather is an executive business leader with over 20 years-experience across multiple industries, with over a decade in telecommunications. She has a proven reputation for leading companies to dramatic bottom line growth through increased operational efficiency, effective financial oversight, and transformative business development. Her approach always factors in an organization's most valuable asset—their employees. Her experience has helped organizations create high-trust cultures that attract and keep the best talent. She has also been certified as an Executive Leadership Coach.
---
10:00 – 11:30 am CONCURRENT SESSIONS
Threat to Company Culture: How HR can and should handle bullies
Lynne Curry, Avitus
Session Description
This fast-paced, highly engaging training offers HR professionals and other leaders solid strategies and innovative skills for:
Handling toxic, uncivil individuals (including those at high levels) and workplace bullies;
Making a business case for the costs of incivility;
Successfully negotiating tough, touchy, high-voltage situations.
Speaker
Lynne Curry, Ph.D., SPHR (senior professional in human resources) is Regional Director of Training and Business Consulting for Avitus. Curry was founder of The Growth Company, Inc., a 39-year management consulting, training, human resources and organizational strategy firm. Curry has provided more than 55,000 consulting projects to more than 4200 organizations in Alaska, Hawaii, Washington, Oregon, California, Connecticut, Arizona, Michigan, Washington D.C., Illinois, New York, Arizona, Colorado, Texas, Japan, Korea, China, Guam and England.
Curry has authored four books, Beating the Workplace Bully, AMACOM, 2016, Managing Equally & Legally (McFarland & Company, 1990); Won By One, 2002 and Solutions 2006 and 2012, Communication Works, Inc. If you'd like to see Curry in action, here's a "live to tape" 30 minute television interview, https://www.youtube.com/watch?v=s5ZH8dIzyrM on workplace bullying. Curry has an active social media presence (involving 13,000 connections). Her articles appear nationally and internationally, in publications such as U.S. News and World Reports, inc.com, Yahoo!News, CBS MoneyWatch and the American Management Association Playbook. Curry's weekly business column has been published since 1983 in the Anchorage Daily News). Curry and her five member Alaska-based team provide training, senior-level HR services and other consulting services. Curry chaired Alaska's Labor Relations Agency under two governors.
Alaska Work Matters
Robert "Bobby" Silverstein, Center for the Study and Advancement of Disability Policy
Session Description
Employment for all is a cost-savings for Alaska! Employment, even at low levels, was associated with better health and health behaviors as well as lower costs.
A 2013 Kansas State University study (Hall, Kurth, Hunt), "strongly support changes to provider practices and federal disability policy to support employment at all levels for people with disabilities." Findings indicated participants with any level of paid employment had significantly lower rates of smoking and better quality of life; self-reported health status was significantly higher, while per person per month Medicaid expenditures were less. Employment, even at low levels, was associated with better health and health behaviors as well as lower costs. Alaskan employers need to plan ahead to fill the gap in available workforce due to the retirement of the Baby Boomer generation. Employers would benefit from tapping into this segment of the workforce and hiring more qualified individuals with disabilities. Work provides a meaningful outlet for skills and talents. It is often how individuals form their identity within their community. Individuals with disabilities want the opportunity to work.
Speaker
Robert "Bobby" Silverstein is a nationally-recognized attorney with more than 40 years of public policy and advocacy experience. For more than a decade, he served as staff director and chief counsel for the Senate Subcommittee on Disability Policy, chaired by Sen. Tom Harkin. Bobby was a behind-the-scenes architect of more than 20 disability-related bills enacted into law, including the landmark Americans with Disabilities Act; the Rehabilitation Act of 1973, as amended; the Individuals with Disabilities Education Act, as amended; and the disability-related provisions of the Fair Housing Act, as amended. Silverstein also served as the director of the Center for the Study and Advancement of Disability Policy.
Benefits are Good
Terry Allard, Wilson Albers
Session Description
General conversation about questions HR professionals should know the answer to including: What's new with benefits in Alaska and the U.S.? Why are we reluctant to choose narrow networks and high value networks that will save money? Is access to the Fed Health plan solving one problem to the impact of another? These questions and more will be covered.
Speaker
Terry has extensive knowledge of employee benefits and has been with Wilson Albers since 1997. She has been working in the employee benefits industry since 1985. Having spent this time in the industry Terry is able to bring valuable insights in offering solutions and developing strategies for the challenges Alaska businesses face. As a key member of the Business Development team, she is responsible for initiating new relationships and specializes in executive compensation strategies and disability plans for highly compensated individuals. She works with both prospects and clients of the Wilson Albers team. Terry holds a Certified Employee Benefits Specialist (CEBS) designation from the International Foundation of Employee Benefits and a Group Benefits Disability Specialist Certification from The National Underwriter Company. She has completed the PPACA certification course and the Consumer Directed Health Care (CDHC) certification courses through the National Association of Health Underwriter. Terry worked at Blue Cross Blue Shield of Alaska for 11 years and gained a thorough understanding of the marketing, administration, and underwriting of fully insured health plans. She attended Anchorage Community College and University of Alaska. Terry is a member of the National Association of Health Underwriters and currently serves on the BOT for the Health Underwriters Political Action Committee and regularly meets with members of Congress on issues related to healthcare. She's a charter member and past president of the Alaska chapter of NAHU and currently serves as the co-chair of the legislative committee.
Dealing with Complex FMLA Issues
Renea Saade, Littler
Session Description
The presentation will cover complicated FMLA concepts through the use of lecturing, interactive hypotheticals and discussion of recent cases, legal trends and audience questions. We will cover nuances in the federal regulations on FMLA and areas where employers can evaluate whether they need new approaches and/or policies.
Speaker
Renea counsels clients on a broad range of employment issues including wage and hour, accommodation and leave requests, enforcement and defense of noncompetition and nonsolicitation agreements, workplace investigations, discipline and terminations. She assists clients in the development, revision and enforcement of employee handbooks, policies and contracts and provides onsite employment law training on issues including prevention of harassment and discrimination, hiring do's and don'ts, wage laws and best practices for performance reviews. She regularly represents employers in federal and state court proceedings, agency audits and investigations.
---
12:00 – 1:00 PM KEYNOTE
The Business of Fair-Chance Employment
Harley Blakeman, HonestJobs.com
Session Description
As a thought leader on fair-chance employment, Harley Blakeman will share his personal experience of looking for gainful employment after two felony convictions. He will break down both the high incarceration and low unemployment rates we face in America, then propose a simple yet powerful solution. With data, case studies, and the bottom line in mind, Harley will make a compelling argument for why your company should be a fair-chance employer and how you can take action now.
Speaker
Harley Blakeman is Co-founder and CEO of HonestJobs.co – a fair-chance employment platform connecting employers with qualified candidates who were once incarcerated nationwide.
Harley himself experienced homelessness, addiction, and incarceration all by the age of nineteen. After serving 14 months in prison, he was able to overcome being homeless and addicted to drugs but struggled to convince hiring managers that he was employable. Working his way through college in kitchens, he got into a community college and went on to graduate from The Ohio State University's Fisher College of Business with Honors. While Harley faced hundreds of rejections he persisted until he received a job offer from an HR Manager with a fortune 500 company who felt it on her heart to give him a chance. He started as a Production Coordinator and seven months later was promoted to Production Supervisor.
Months into his new position Harley was receiving thousands of questions on YouTube and other social media from other formerly incarcerated job seekers. They wanted to know how he did it – so he wrote a book. GRIT: How to get a job and build a career with a criminal record, has now sold over 4,000 copies and led to dozens of speaking engagements at prisons, non-profits, and fortune 500 companies.
As an expert on the "Formerly Incarcerated Job Seeker" side of things, Harley decided to start learning the "We don't hire felons" side of things in early 2017. Through an easy-to-use online platform, he created a scalable business that has over 100 employers saying, "We'll hire most felons if they are qualified for the job". The company, HonestJobs.co, allows employers of all size to find qualified employees who are looking for a fair chance to earn an honest living.
---
1:30 – 3:00 PM CONCURRENT SESSIONS
Negotiation Strategies for HR Professionals
Dr Frank Jeffries

​
Session Description
Who among us has not felt intimidated when faced with a negotiation? The mere mention of the word saps our confidence. Moreover, we may perceive the same caring, empathy, and social skills that make us strong human resource professionals as detriments in the hard world of negotiations. Yet, in the workplace, we must negotiate all the time–and be good at it! You will improve your skills to help the organization achieve its strategic goals with external stakeholders in the areas of talent management, labor relations, vendor selection, benefits administration, and community partnership. Improving negotiation skills will also empower HR professionals to relate more effectively with internal stakeholders in order to align HR's strategic plans with the organization's strategic plans in evolving areas such as diversity, gender equality, social responsibility, and organizational redesign. This course will help HR professionals develop their skills in strategic planning, critical thinking, influencing, negotiation, and leadership. The concepts and skills related to business negotiations will help HR professionals deal with their business management and strategy responsibilities including: • Establishing and maintaining strategic relationships with key individuals in the organization for organization decision-making; • Establishing and maintaining strategic relationships with key individuals outside the organization for achieving an organization's strategic goals and objectives; Goals: 1. Provide participants with an understanding that the business negotiation concepts and skills covered will help HR professionals deal with their business management and strategy responsibilities. 2. Provide participants with information about negotiation that is useful and applicable in the participants' strategic planning, critical thinking, influencing, negotiation, and leadership. 3. Characterize business negotiation as a skill based on preparation, practice, and integrity.
Speaker
Dr. Frank Jeffries is a Professor Emeritus at UAA. He holds a BA in Marketing, an MBA, and a Ph.D. in Business Administration. Prior to entering academia he worked for 15 years in the high tech industry gaining experience in sales, sales management, product management, and program management positions. He is currently a Professor of Management at the College of Business and Public Policy at UAA. He teaches courses at the senior and graduate level in negotiation, organizational behavior, and organization development. He is very active in research and regularly publishes and presents papers. He also consults for local businesses, and is a management and negotiation coach.
Welcome to the real world: Altering classic decision-making exercises to enhance critical thinking
Dr. Terry Nelson, UAA

​
Session Description
Downsizing in organizations can be a challenging experience for a leader and even more disconcerting for a subordinate who experience the elimination process. There are many factors that can influence how leaders determine who to retain and who to eliminate when they are asked to select individuals to meet an organization's downsizing goals. In this workshop, participants will engage in a nonreality exercise but will ultimately take ideas from the activity and discuss how it relates to the real world of downscaling employees.
Speaker
Dr. Terry Nelson earned her BBA and MBA from the University ofArkansas at Little Rock and completed her PhD at the University ofMemphis. Her knowledge of the importance of leader and followerrelationships comes from over 17 years in leadership roles with Kroger,Coca-Cola Enterprises, and First Tennessee Bank where she was SeniorVice President of Consumer Loan Processing. When not in theclassroom, Terry is busy overseeing the College of Business and PublicPolicy's Leadership Fellows Mentoring program, conducting research,and enjoying Alaska.
Benefits Technology: It's more than you think
Andrew Kupperman, RISQ Consulting
Session Description
The strategy behind offering employee benefits is transforming due to the ever-changing technological tools becoming available to both employers and employees. We will discuss some of these new innovations that are impacting the realm of employee benefits.
Speaker
At RISQ Consulting, Andrew works to help organizations find better ways to get things done, by taking a systematic approach to design workforce solutions that fit an organization's needs and culture, so that employees can focus on what they do best to help their organizations grow.
Originally from the Philadelphia, PA area, Andrew received his Bachelor's Degree in English Writing from the University of Pittsburgh in 2009. Andrew moved to Alaska with his wife back in 2014, and joined the ASHRM community 3 years ago. Together they love exploring new places, and the beauty Alaska has to offer. Through his work at RISQ, and in the community, Andrew wants to continue making Alaska a great and better place to live in the future.
Change Your Perspective on Change
Alan Cabelly and Jean Benevento

​
Session Description
We've all heard the saying, if there is one thing that remains consistent it is change! Dealing with change within HR is ever prevalent as many organizations look to make the switch from tactical HR to strategic opertaions. Change is something we all want. We turn to self-help and motivational books, seek advice from friends, family and coworkers, all in an effort to tryy to achieve the change we want. Yet many of us still fail short of achieving what we want. This interactive session helps individuals get clear on teh active role they play in creating the change they want within their business or personal life. Participants will examine how they potentially get in the way of change and how to overcome these obstacles to get the results they want. Remembers, there's no better time than now to make the changes you want. PArticipants will gain helpful insight into small changes we can all make to be more effective in implementing change in our professional sphere of influence.
Speaker
Alan Cabelly, Professor Emeritus at Portland State University, has taught and advised its award winning HRM program and SHRM students since 1980. Prof. Cabelly is founder and Executive Director of the Portland Leadership Institute (www.PortlandLeadershipInstitute.com), which focuses on Leadership Excellence in the 21st century. He uses the DiSC© system and other contemporary techniques for Executive and Leadership Coaching, and speaks widely on topics such as InterGenerational Effectiveness in the Workplace; Strategic Negotiations; and Corporate Leadership and Teambuilding. His personal mission is to help individuals increase their leadership skills and improve the functioning of their work teams. He helps people find passion in their work life, leading to greater individual engagement and satisfaction, and increased organization productivity.
---
3:30 – 5:00 am CLOSING KEYNOTE
Alaska Economic Forecast
Neal Fried, State of Alaska

​
Session Description
This presentation will address the most current economic analysis and forecast for 2019 regarding the cost of living, construction, income and wage trends, the military, the health care industry, seafood, tourism, transportation, oil industry issues, labor needs, rural economic trends, and more. All this information is linked to the impact that it is projected to have on human resources and workforce planning.
Speaker
Neal Fried, Economist, State of Alaska, Department of Labor, Research & Analysis Section Presenter Qualification: Neil Fried Economist, State of Alaska, Department of Labor, Research & Analysis Section, 1978-Present His primary duty is to produce economic analysis on a variety of economic issues facing the Alaska. A primary author of articles appearing in the monthly magazine Alaska Economic Trends, published by the Alaska Department of Labor. This publication is distributed to over 5,000 subscribers. His articles cover a wide variety of the State's economic issues. Some of the topics on which he has performed economic analysis and written articles include: the cost of living, construction, income and wage trends, the military, the health care industry, seafood, tourism, transportation, oil industry issues, labor needs, rural economic trends, economic impact of the Prince William Sound oil spill, the MatSu Valley's economy, industry and community profiles, and Alaska's largest employers. Prepares an economic forecast for Anchorage annually and forecasts for a variety of other communities in the state which are published in Alaska Economic Trends and other publications. Produces industry employment estimates for Anchorage, and Anchorage/MatSu on a monthly basis. Composes many of the monthly news releases distributed to the print and electronic media. Dozens of presentations on variety of economic topics each year, both in the Anchorage area and around the state. Frequently asked to speak before groups such as Common Wealth North, University classes, Alaska State Legislature, Chambers, Seattle Chamber of Commerce, BOMA, Rotaries and a variety of other forums. Provide information on economic issues to the private sector, general public, public agencies and the media as part of daily routine. Served on the Governors Oil and Gas Policy Task Force, Anchorage Economic Development Committee, the Governors Technology Task Force and others. Was on the Pacific Northwest Economic Conference board. Supervisor of Anchorage office, Department of Labor Research & Analysis Section EDUCATION Economics Degree, University of Alaska-Fairbanks, 1978