Welcome to the Alaska SHRM State Council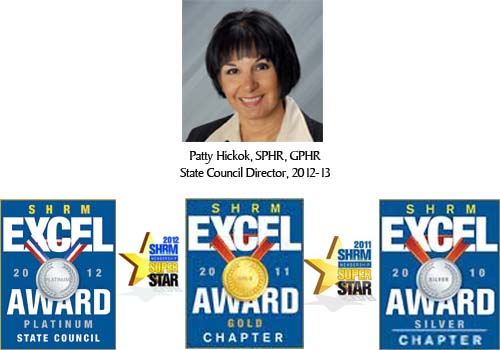 Welcome to the Alaska SHRM State Council's website! We hope that you find the information presented through our site informative and helpful. Please take a moment to check our 2013 Board of Directors. As you will see, it is a top-rated group of HR professionals passionate about advancing the profession and serving HR professionals across our state.
We don't have to tell you that Alaska is a unique place. Not only because of our geographic location, but because of the vast number of rural areas we serve. It is our desire to create synergies among our 4 affiliated SHRM Chapters and 1 Student Chapter to better serve the over 900 HR professionals in our state. But we cannot do it alone. I look forward to hearing from you all on how we can improve your experience as HR professionals in Alaska and any other suggestions especially from those of you in areas without a near-by chapter on how we can better serve you.
Now, you couldn't miss our icons on top. "This (EXCEL Award) recognition is a distinct indication of the state councils's successful partnership with SHRM to serve the networking and professional development needs of human resource professionals and to the advancement of the human resources profession" noted J. Robert Carr, Senior Vice President, Membership, Marketing & External Affairs for SHRM. Our State Council continues its upward spiral, by reaching the maximum level of achievement in the Platinum EXCEL Award for our contributions in 2012.
Technology is making our job a little easier. Now on its third year, the webinar program is now an expectation. Last year we were able to offer 7 pre-approved and complimentary programs, and we are in tune to do the same this year! Check the Meetings and Events tab for additional information and registration information.
We are proud to announce that, for the first time ever, we offered two different scholarships in 2012: one for our student members and one for our professional members towards HRCI certification. Cherish Hansen, one of our members from Auke Bay, Alaska, has been awarded the HRCI Certifcation Scholarship. Congratulations go out to Cherish! The 2013 scholarship application period is now open, you may find the links under the Certification page and under the Students page.

We had some great accomplishments in 2012 (click here for a snapshot) and have another long list for 2013. We taught the Skills for Success and the Economics for Success curriculums at Central Junior High in Anchorage, in partnership with Junior Achievement. We have met with our legislators both here in Anchorage as well as DC. We had Bob Carragher from SHRM up in Anchorage presenting on the Advocacy Team initiative. We have engaged the UAA Student Chapter once again and we continue to check off items on our 2013 list.
I thank you all for your continued support and invite you to bookmark our page http://alaska.shrm.org and stay connected with us via Facebook, LinkedIn or Twitter to get up-to-date information on complimentary educational opportunities, articles of interest and more!
It is humbling to have the opportunity to serve as your State Council Director. I appreciate all the efforts of the former State Council Directors to get the organization where it is at now. They have created a strong foundation that will allow us to continue leading the Alaska SHRM State Council on the right path.
Thank you all for your support. Together we continue to advance the profession and serve the professional!
Sincerely,
Patty Hickok, SPHR, GPHR
2012-13 Director, Alaska SHRM State Council

Online Registration Software
Upcoming Events
See All >
January 17, 2014, 8:00am – 2:00pm

In Person Training, BP Energy Center Limited Space, Early Bird Through 12/16/2013